Engaging the Church in 2022 + Beyond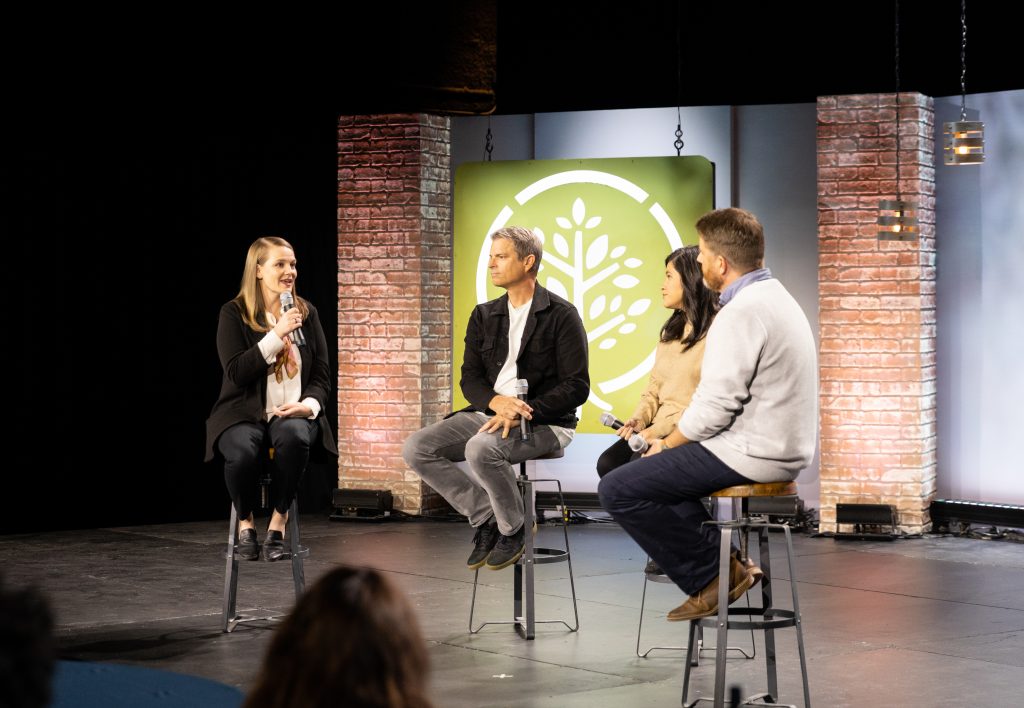 For nearly 20 years, Show Hope has sought to care for orphans by engaging the Church and reducing barriers to adoption.
It's a vision set forth by our Founders, Mary Beth and Steven Curtis Chapman, and still today, guided by them. Over the past two years, in particular, Show Hope has revisited and reexamined our commitment to serving local churches, both here in the U.S. and around the globe.
"Steven and I have longed to go deep and travel far with children, parents, and families on the adoption journey, and in that, we also long to lock arms with local bodies of believers in their efforts to love, support, and resource these families," Show Hope Co-founder Mary Beth Chapman recently shared. "Show Hope's Pre+Post Adoption Support work has been integral in this vision, and with our new three-year strategic plan, we have identified new opportunities that underscore our efforts to engage the Church."
As part of Show Hope's newest strategic plan, a key strategy includes "Engage the Church." Within each of our different programmatic areas of work, we have identified specific initiatives to pursue, including increasing adoption awareness within the local church, partnering with seminaries to support student families in their pursuits of adoption, and designing and testing Pause Campaign for curriculum integration within Christian schools.
Specific to our Pre+Post Adoption Support work, we are aiming to increase trauma awareness among church and faith leaders with the goal of guiding them along our Trauma Competency Continuum with robust resources and support. More specifically, by the end of our fiscal year 2024 (which ends June 30, 2024), we also hope to have provided 25 TBRI (Trust-Based Relational Intervention) Practitioner Training scholarships to church leaders—a goal that will continue annually.
COMMUNITY MATTERS
This strategy is not new to Show Hope's mission; however, with our retooling of the Empowered to Connect Conference—now, the Hope for the Journey Conference—we are standing firm in our efforts to serve well children, families, and the faith communities that surround them. As we know, the adoption journey does not end the day a child is welcomed home, and this unique, often complex journey is not meant to be traveled alone. For the individuals, parents, and families who Show Hope has the privilege of serving, the local church is often a place of refuge—an important entity of needed equipping, encouragement, and support—a beacon of hope and help for seasons of hardship and celebration.
However, the local churches of 2003, when Show Hope first launched, function vastly differently than churches of today, especially in our post-COVID 19 world. Worship styles are more varied, ministry philosophies have broadened, and the complexity of needs have only grown. As Show Hope's Executive Director, Kristin Parks, explained, "Engaging the Church is an ever-changing, ever-growing process—one that requires agile, astute attention.
"And while the obstacles to reaching local churches are challenging, I truly believe churches desire to care for, serve well, and support the families in their communities who have been impacted by adoption and/or foster care," Kristin continued. "Unfortunately, the knowledge barrier is standing in the way as many churches do not know where to begin or are simply unaware of the unique needs."
THE FIRST STEPS
So where does a church even begin?
The first step is simply becoming aware: Children impacted by adoption and/or foster care have often experienced early attachment injuries related to loss, abuse, trauma, and/or neglect. Traditional care models for engaging and connecting with children who have experienced relational trauma may fall short, so we advocate for families, churches, and communities alike to gain a better understanding of children's unique needs and then begin taking steps to implement change and practices that foster safety, security, and connection.
In partnership with our friends Tona and Mark Ottinger and the entire team at Empowered to Connect, we have developed a Trauma Competency Continuum for churches and faith communities. At Show Hope, we firmly believe that churches and faith communities have a unique opportunity to show the tangible love of Christ to those most vulnerable in their communities by taking active steps to move along the Trauma Competency Continuum. When a church or faith community becomes trauma informed, they are making a commitment to pursue hope, healing, and restoration through implementing compassionate, empathetic, and supportive policies and practices.
The path along the Trauma Competency Continuum includes the following steps:
Become aware of the need for trauma-informed care.
Grow in knowledge and skills while exploring the principles of trauma-informed care and how trauma impacts children and families.
Implement trauma-informed principles and practices individually and organizationally.
Fully integrate trauma-informed principles and practices into the culture of a family and/or organization.
HOPE FOR THE JOURNEY
In becoming trauma aware, Show Hope hosts its annual Hope for the Journey Conference (formerly the Empowered to Connect Conference)—for both individuals or households and churches or organizations.
"The Hope for the Journey Conference aims to encourage and equip parents, families, and caregivers meeting the everyday needs of the children entrusted to them through adoption and/or foster care," Mary Beth shared. "And twofold, the conference also serves churches and organizations in their ministries and support of these children and families. The journey is not meant to be traveled alone, and though sometimes complicated and hard, there is hope and help."
Digital in delivery and designed to be easily accessible and consumable, the Hope for the Journey Conference includes research-based tools to promote attachment and connection in families such as TBRI methods developed by Drs. Karyn Purvis and David Cross at the Karyn Purvis Institute of Child Development at TCU. TBRI is a care model designed to help meet relational and development needs of children and youth impacted by trauma. Outlined by Show Hope, the conference also explores the gospel as foundational to TBRI and how churches and organizations can better support children and families in their ministries and communities.
As a dad of two pre-teens welcomed home through adoption, a recently named TBRI Practitioner, and former church staff member, Show Hope's Director of Programs, Justin Myers, believes the Hope for the Journey Conference and its introduction to TBRI are vital to churches today.
"Whether it is Sunday school teachers, small group leaders, pastors, and elders of different ministries, understanding and empathizing with children and the impacts of trauma on their development are critical to the healthy life of a local church," Justin explained. "In regard to pastors, a big part of their role is counseling. Having trauma-competent tools and understanding care models like TBRI will aid them in counseling a family during seasons of crisis or speaking to the relationships between a parent and a child.
"These are great tools to have for a church's ministries and outreach," Myers continued. "The local church is there in times of celebration, but perhaps more importantly, the local church is to be there in times of hardship, sadness, and lament … to bring comfort, support, and help. And Show Hope's work to engage and equip local churches will only reduce barriers and bridge gaps that exist, ultimately strengthening and unifying a local body of believers and standing as a witness to the gospel of Jesus Christ to the world around us."
As Show Hope closes 2022 and embarks into a new year, we are continually mindful of the unique position that God has called us—to care for and serve well his Church, children who have been orphaned, families on the adoption journey, and the local churches and faith communities that are seeking to minister to them in tangible, helpful ways. We appreciate your prayers and support and invite you to continue locking arms with us in this work. It is certainly not possible without you.

Leave a Comment