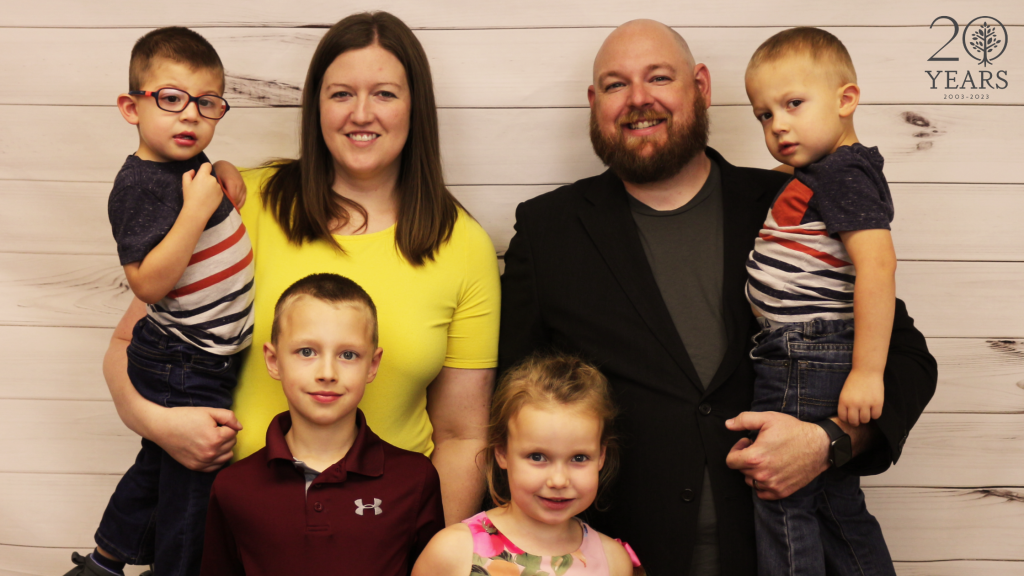 Three-year-old Thaddeus Turney, affectionately known as Thad, loves to laugh and get others to laugh with him. One of his favorite jokes is to say, "Knock, knock," and proceed to giggle with no punchline. And if you ask his parents, Ashley and Justin Turney, they describe him as the biggest, happiest-go-lucky trickster.
"For everything that he's been through, he has a very sweet demeanor and just a great sense of humor," Justin said.
The Turneys began fostering Thad and his twin brother, Theodore, when they were 5 months old, later adopting them both as soon as the courts allowed. In his few short months of life, Thad experienced multiple brain bleeds, strokes, and critical vision impairment, leaving doctors to question whether he would ever see, speak, or walk.
Thad immediately began multiple exercises and therapies to help him progress, and he and his family saw God move in mighty ways. Today, not only can Thad see and speak, he can walk!
It was with Thad's mobility where Show Hope entered the picture. Thad's mobility was lacking due to spasticity in his right leg, meaning his nerves were telling his brain to contract the leg muscles too often. That can lead to deformity where muscles and bones won't lengthen properly. Thad's orthotists encouraged his parents to look into a special surgery that cuts some of the nerves from the muscles to the spinal cord to stop the over communication.
The surgery came with a price tag of more than $37,000. Insurance wouldn't cover the surgery, so the Turneys began fundraising. They had about four months to come up with the funds. Nearing the deadline, the family had raised more than half what was needed, but if they didn't come up with the total, the surgery would've been postponed.
The Turneys applied for a Show Hope Medical Care grant and were awarded the funds just in the nick of time.
"God worked through Show Hope to give us right what we needed, when we needed it. It was perfect timing," Justin said.
Aside from a brief moment where the surgery was almost postponed due to a miscommunication with the hospital, Ashley and Justin said that they always knew God would deliver what they needed for Thad's surgery.
"I really had a peace at the beginning about when they said how much it was going to be," Ashley said. "I just really felt like, God is going to provide that. And I had a peace about it in the very beginning and through the fundraising."
Thad's surgery went off without a hitch. And at his first physical therapy appointment, the therapist said Thad was about two months ahead of schedule.
"We think that this was just a chapter of the full story," Justin said. "God still has a lot more he wants to do and share through Thad's story through hope and encouragement."
"A big thank you to Show Hope and a big thank you to everyone that donated. God provided through a lot of different people," Justin said. "And really even the ones who couldn't contribute financially still made incredible contributions through prayer and through encouragement and just by sharing his story and passing it along."
This Christmas, we have strategically planned to raise $600,000 for the continuing impact of our work, yet we cannot reach that goal without you. Today, will you prayerfully consider a gift to our Gifts of Hope campaign? We need you.

Leave a Comment