For the Love of the Church

SEE how Show Hope's Pause Campaign is impacting college students today … and in the future.
Wendy Twit has been working with college students for more than 20 years.
"I've felt my calling was to work with and mentor girls—college students—since I was in college," Wendy said. "That was my heartbeat; that was my drive and passion—to be in the lives of college students."
When Wendy married Kevin, a campus minister, she thought to herself, Here's your dream right in front of you. You can keep doing this for as long as you want now.
That thought has given way to more than two decades of college ministry where Wendy and Kevin have witnessed waves of change on college campuses and in the lives of students.
"There's been a big change in mental health and the ways we've seen anxiety and depression come out in these college students over the years," Wendy said. "[There's also] more and more about the effects of social media and how it's shaping the people who use it. I've noticed it in myself, and I've noticed the effects of it on my students."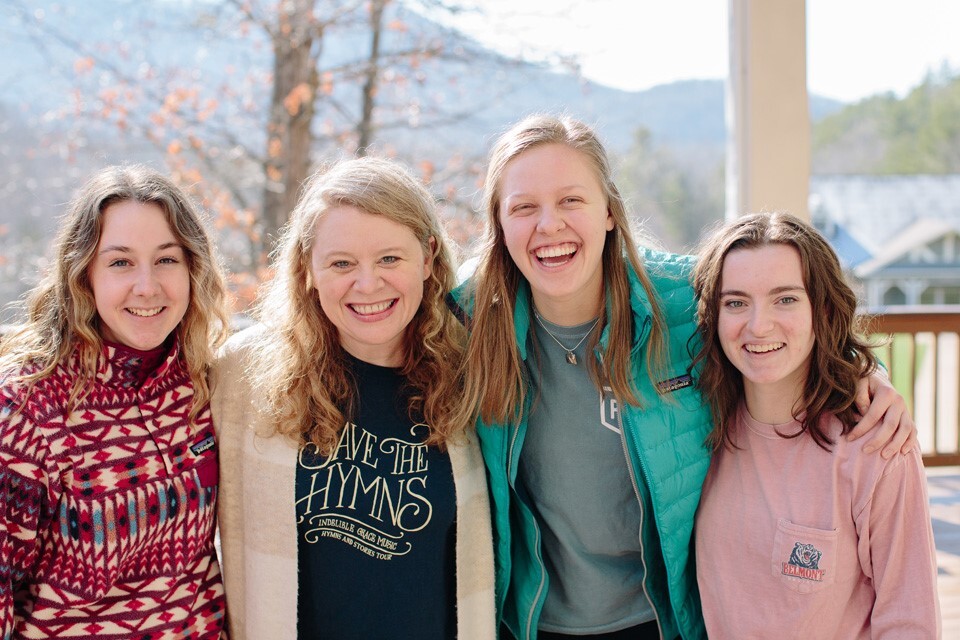 Beyond her role as part-time campus staff with Reformed University Fellowship (RUF), Wendy is also a photographer and was hired by Show Hope to capture a kick-off event for its new student initiative called Pause Campaign a few years ago. Show Hope's Pause Campaign is a week of intentional living for the sake of others—where students pause from social media and engage with devotional and educational material about God's heart for orphans and how they can use their passions, talents, and knowledge to help be part of the solution.
"I had a strong hunch that if we did something where we pulled back from social media, it could be a really helpful thing for us to learn about adoption while also giving the students a taste of pausing their online presence," Wendy said. "I felt like, maybe every time they think about using their phone, they'll think about why they're not using it. [It will] cause them to pause and think about the issues we're trying to get them to focus on. It would be a lifting like it says in Psalm 121, 'to the hills where their help comes from.' I think it's a good thing when we can get our students to lift their eyes to Jesus."
Wendy and Kevin's own eyes were opened to adoption and God's heart for orphans many years ago. When they were first married, Wendy and Kevin attended the same church in Franklin, Tennessee, as Show Hope's Founders, Mary Beth and Steven Curtis Chapman.
As Wendy and Kevin watched the Chapmans' adoption journey unfold, they found their own lives being changed as well.
"I had seen the Chapmans and others from our church adopt, and Kevin and I both felt this call that we needed to adopt as well," Wendy explained. "The Chapmans—and what God was doing in their lives—directly affected what we were about as a family. Their impact and influence really shaped our hearts and the life of our family."
And so, with hope and faith, the Twits began an adoption journey of their own, and in 2005, they welcomed home Mei from China.
More than 15 years later, God used the Chapmans and the work of Show Hope to intersect with Wendy's ministry and work with college students. In February of this year, Wendy led a group of students through Show Hope's Pause Campaign. One student, in particular, was deeply impacted by the experience—Artem Smith, a sophomore at Belmont University in Nashville, Tennessee.
In the week he spent in Pause Campaign, Artem experienced a much-needed freedom from the day-in-and-day-out that his life had become.
"The world just slowed down, which was really refreshing, because I've always gone at such a high pace, wanting to get things done, done, done … do this, this, this. I really forgot what my purpose was and what I was really doing this all for," Artem said. "It opened a lot of time throughout the day for me to focus on some things that matter more than I thought they did—time with people that I care about and time in the Word, contemplating and being more in a relationship with God during that week."
Artem was adopted from Russia. For three years of his life, Artem lived in an orphanage in Saratov, Russia. That all began to change, though, when he arrived in the U.S. the day after his third birthday. His time in Pause Campaign also created space for Artem to reflect on something even more personal—his own adoption story.
"There was one day where I saw a passage in the devotional book, and I called my mom and poured out to her how grateful I was," Artem said. "It was very emotional seeing God's parallel—how I was adopted, but he adopts his children in Christ. We were all sinners; we were all enemies of God, but he loved us so much that he planted faith into us, so we could be his children."
There is a saying among people who work with RUF: When you work with students, you are impacting the Church 15 to 20 years from now. It's that mentality that has motivated Wendy Twit to dedicate her life to building relationships with and striving to impact students like Artem.
"That's one reason why I do what I do—because I love the Church," Wendy said. "And because we've been working with students for more than 20 years, [Kevin and I] have actually seen the effects of the ministry we've been doing—that God has worked. We have seen some of the students leave and become pastors, elders, amazing teachers, moms, and people. They're using their skills, their gifts, and their talents to further the kingdom and build the Church.
"The work that Show Hope is doing with students is part of that," Wendy continued. "Because the need for adoption is not going away—it's going to continue. And we want the Church to be about adoption because God is about adoption."

Leave a Comment