What's Next for Pause Campaign?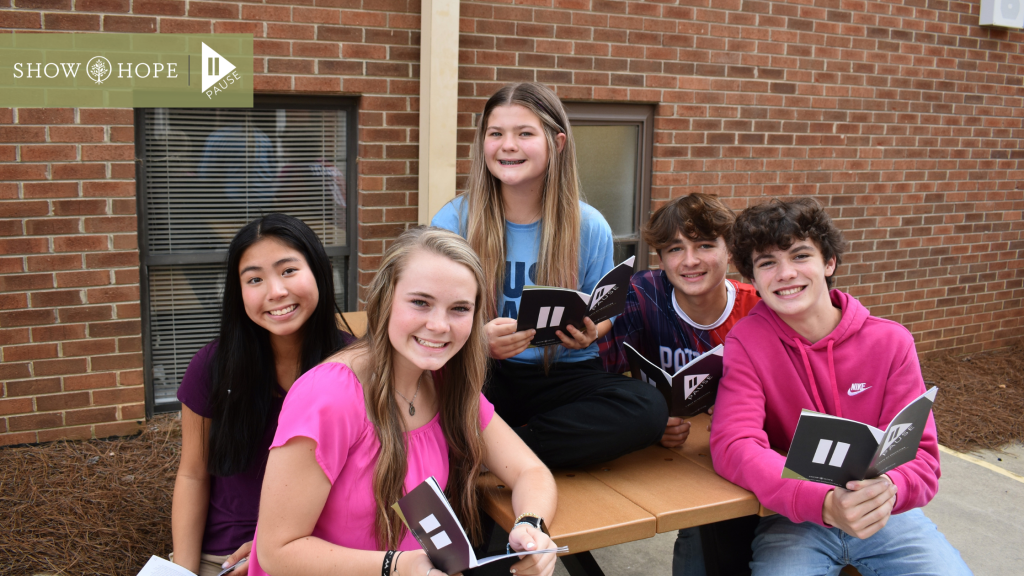 What would it look like for a group of students to put away distractions for seven days and focus on children who have been orphaned? This was the vision Show Hope had in the fall of 2016 when Pause Campaign (Pause) officially launched, with its aim of engaging students in the work to care for orphans and reduce barriers to adoption.
Since 2008, Show Hope's Student Initiatives work has been intentional about investing in students and raising up change-makers. However, Pause is unique in the fact that it focuses on education as a means of mobilization. Over the past seven years, Pause has engaged with thousands of students and spurred on action that has had rippling effects. Pause groups have been a part of raising more than $20,000 for Show Hope to help families through Adoption Aid and Medical Care grants. Local families have been served by students raising money and supplies for their adoptions. Pause Campaign leaders have even entered their own adoption journeys. And entire schools have rallied around Pause to create a culture that prays for the needs of children who are vulnerable and challenges students to think about their next steps when it comes to serving.
One school impacted by Pause Campaign is Union Grove Christian School in Lexington, North Carolina. In September 2022, Union Grove incorporated Pause into their annual Missions Emphasis Week. Each day during chapel, students heard from missionaries who serve around the globe, many ministering to children and families in vulnerable situations. Throughout the week, middle school and high school students were invited to participate in Pause Campaign as a way to dive deeper. Kacee Cromer, Headmaster of Union Grove Christian School, was excited about bringing this resource to her students.
"The Pause campaign brought about a sense of practical student involvement to our Mission Emphasis Week," Kacee said. "Several missionaries were in attendance sharing their ministry; however, Show Hope presented a different angle and encouraged students to be aware and make a difference in the lives of children who have been orphaned, not only around the world but in their surrounding area as well.
"Students who had been adopted were emboldened that week to share their stories," Kacee continued. "It brought about great awareness in our school of how many students were affected by adoption. Students continue to make comments about the Pause Campaign and its effects."
One of Show Hope's goals for Pause Campaign is to integrate this resource into Christian schools. While the daily demands of teachers and administrators are high, Kacee still encourages school leaders to prioritize bringing Pause Campaign to their students.
"As followers of Christ, we are required to care for orphans; I believe being the administrator of a Christian school requires me to prepare and equip the next generation to obey that command," Kacee explained "Pause Campaign is a wonderful step of discipleship, and I would encourage all administrators to find the time to make [the needs of orphans] a priority in your school. The more often an issue or challenge to take part is brought before students, the greater probability that they will be sensitive to saying 'yes' when God moves in their hearts to make a difference."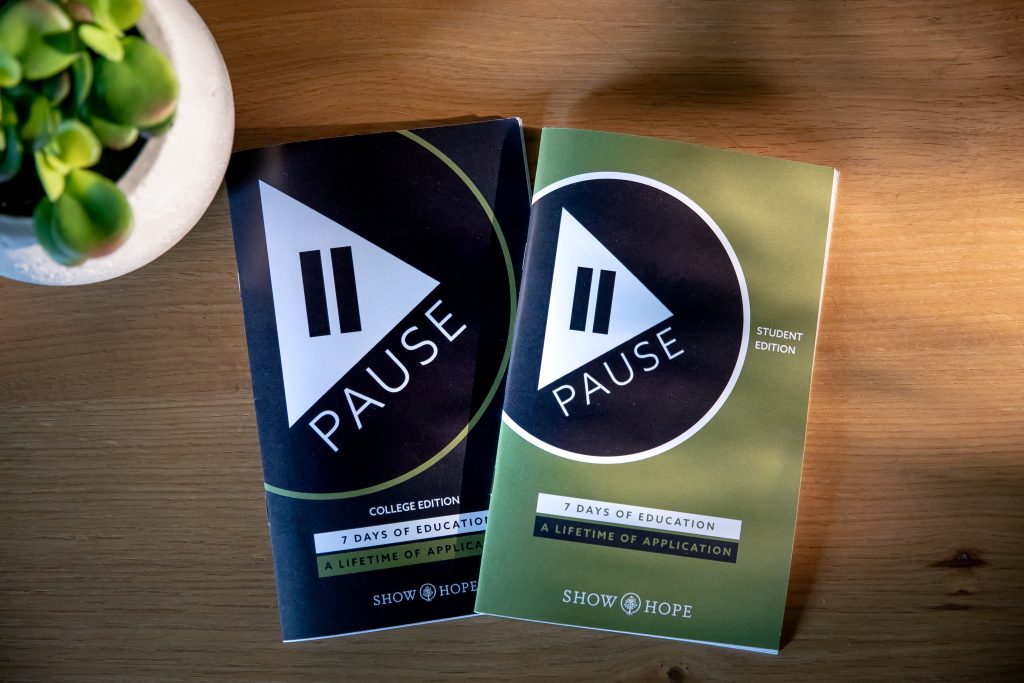 What's Next?
As Pause Campaign nears its seventh anniversary, Show Hope has assessed its relevance, depth, and application in determining how to best reach even more students. Launched this fall, Pause Campaign is now available in two different versions: Student Edition and College Edition. The goal of two Pause Campaign versions is to go deeper with each age group to better educate, mobilize, and inspire to the fullest.
The new Student Edition of Pause Campaign has been reimagined for middle and high school students. Through more specialized content, next steps, and further resources, the Student Edition is tailored for Christian schools, youth groups, and other groups of middle and high school students. With the goal of partnering with more schools annually, this resource is now better equipped to meet those needs, particularly those of schools comprising both middle and high schools.
The College Edition focuses on incorporating more information about trauma competency, people-first language, and age-appropriate next steps. A key initiative in Show Hope's three-year strategic plan includes incorporating our Trauma Competency Continuum as well as resources from the annualHope for the Journey Conference into our Student Initiatives work. The new Pause Campaign College Edition will serve as a catalyst in going deeper with students as they determine personal fields of study and career paths to follow.
As Pause Campaign moves into its second phase, the hope and prayer is for more students to be engaged more deeply. The purpose of this goal is not to just see numbers increased or strategic objectives met. The goal—remaining true to Show Hope's mission—is to care for orphans by engaging the Church and reducing barriers to adoption through equipping and mobilizing the next generation of leaders.
If one student feels called into the social work field and brings trauma-competent caregiving to children and families in need, Pause Campaign is a success. If one future educator is introduced to Trust-Based Relational Intervention (TBRI) and is able to change the life of one future student in their classroom, Pause Campaign is a success. If, in 20 years, one parent is loving and caring well for her or his child because a Pause Campaign week stirred their heart to adoption, Pause Campaign is a success.
As this new phase of Pause Campaign begins, Show Hope's prayer for the Student Initiative's program remains the same: "Now to him who is able to do far more abundantly than all that we ask or think, according to the power at work within us, to him be glory in the church and in Christ Jesus throughout all generations, forever and ever. Amen" (Ephesians 3:20-21).
Praise be to God who has done far more abundantly than we could ask or think in Student Initiatives over the past 15 years, and all glory to him for what is to come through Student Initiatives in the years to come.

Leave a Comment