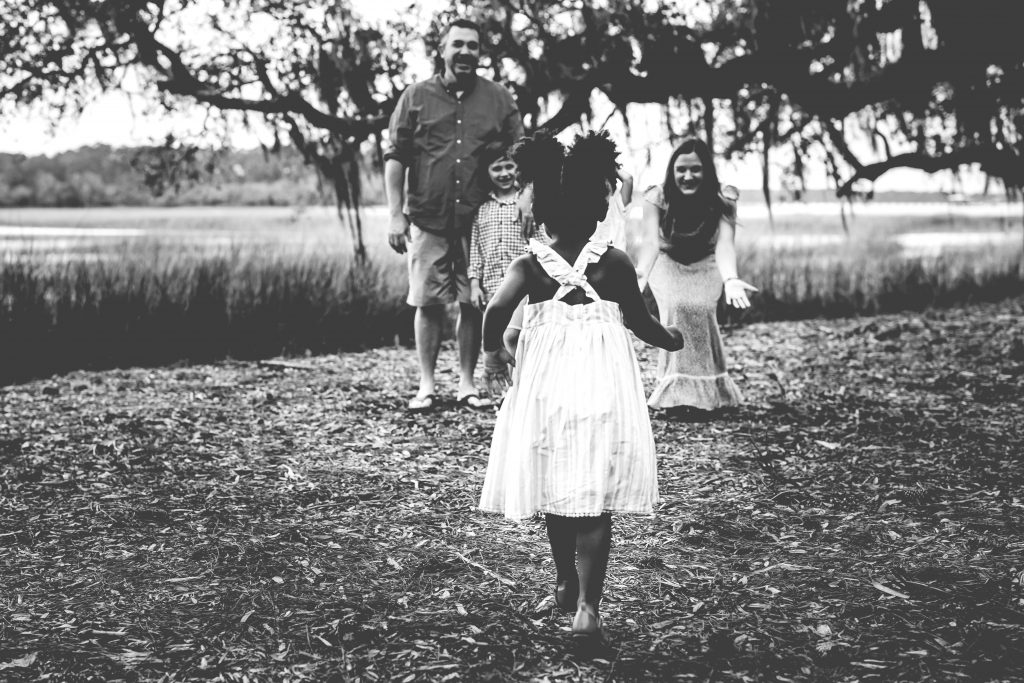 Meet the Smith family. Their Adoption Aid testimony is a beautiful picture of God's faithfulness and perfect timing. As you read, will you join us in lifting up this precious family in prayer?
"In the spring of 2010, while going through our premarital counseling, Matt and I began to discuss the possibility of growing our family through adoption. We both had hearts that were open to the idea, and we began to pray that [God] would make it clear to us how he wanted to build our family. It became evident that God wanted to start our family with biological children when Atticus joined us in June 2013, and Waylon arrived in August 2015. In the busyness of raising the boys, our prayers for adoption became less frequent, but God continued to move in preparing our hearts and family for what was in store. We knew that our family was not complete, but after many months of trying for a third child, we began to feel discouraged.
Around this time, friends of ours announced their plans for adoption. We celebrated and prayed with and for them. After an evening with them, Matt asked me why we had stopped talking about adoption. After that night, we began to pray to see if adoption was the path God wanted us on to add a third child to our family. We spent the summer of 2017 praying and fasting as we waited to pursue adoption options. After many clear confirmations, we went to our first meeting at our adoption agency offices that August. We continued to feel confident that we not only wanted to adopt but that we were called to adopt an infant domestically. Although we felt confident in God's leading, we wanted to take time to work through the finances involved. We began looking for grants, finding ways to save, and prayed a lot about how we'd be able to afford this. We found that almost all the grants are not available to families until after the home study is completed, but there are many expenses prior to that step. We felt overwhelmed and at a loss.
In December 2017, friends called us and asked if they could pay for us to begin the adoption process. Just a few days after that call, our church called to say that funds were available to help us pursue adoption! God provided in ways that we could not even imagine. Throughout the spring of 2018, we completed our home study and became a waiting family in June.
Show Hope was generous in their support and continued to care for us as a waiting family. We spent our summer traveling with our boys and praying for our little one to come home. We came home expectant and prepared, but we continued to wait. We renewed our home study the following spring—continuing to wait and pray. The waiting was hard, and there were days that we questioned if we were doing the right thing. But God continued to demonstrate his faithfulness. He used Show Hope in a mighty way, when after a hard summer of waiting, we received a letter letting us know that due to extra funds, our grant amount had increased. I cried as I read the letter and knew that God was continuing to care for us.
At the end of January 2021, we received an email about a 2-year-old girl. Although we had always imagined bringing home an infant, we felt God prompting us to respond. After several more emails, we were asked to meet with the birth mother. In this meeting, we saw the first picture of Chyna. On our drive home, Matt held back tears and told me he knew she was our daughter. I am so thankful for his confidence and steadfastness over the following weeks as I felt more filled with fear and tried to protect my heart as we waited to bring her home. On March 1, 2021, we were told that we officially had a daughter. Chyna's birth mother had already signed all the papers but stayed as long as she felt she was able to help Chyna with the transition. As we met our daughter, her birth mother held her, pointed to us, and told her we were family. Her strength overwhelms me as I see the many ways she has cared for and loved Chyna. We pray we will continue to remain in relationship and contact with her.
Bringing Chyna home has been the greatest joy. She fits right into our family; she is adored by her brothers and can keep up with their constant activity. As we reflect on the years of waiting, we are blown away to see how God was continually preparing us for her. The very summer we prayed and fasted, she was conceived. The entire time we prayed for our child, she was alive. As we continue to bond and grow together as a family, we will continue to be joyful in the hope we have in Christ, and on days that are trying, we will be patient in knowing that God is in control. And we remain faithful in praying for our daughter and her birth mother."
— Matthew and Laura Smith

Leave a Comment