How to Support Adoptive and Foster Care Families in Your Church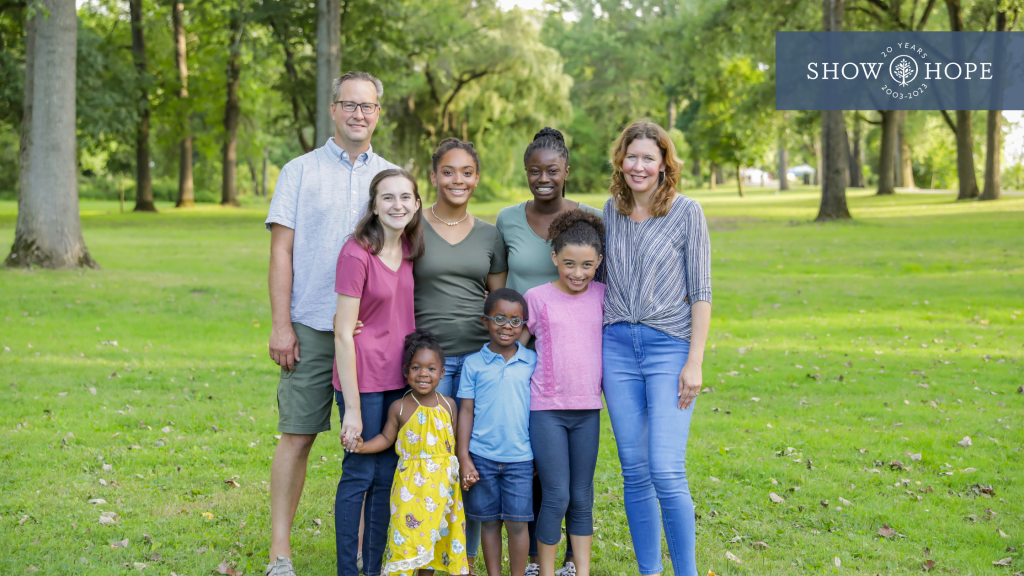 At Show Hope, we have a common saying: The adoption journey does not end the day a child is welcomed home—in many ways, it's just beginning. And the truth is, this journey is not meant to be traveled alone. For many families impacted by adoption and foster care, the local church is an important community of needed encouragement and support—a beacon of hope and help for seasons of hardship and celebration. The following are some very practical, tangible ways your church has in serving and supporting children and families, particularly those impacted by adoption and foster care.
First, consider hosting an evening of prayer for children and families. The power of prayer is where true change begins to take place. Having a night focused on praying for children and families can be incredibly impactful. Spend time focusing on specific needs:
Children and youth ministries
A vision for a ministry focused on serving families impacted by adoption and foster care
Children and teens impacted by adoption and foster care
Parents and caregivers
Schools, teachers, and systems
Children and teens who wait and families longing to welcome them home
The need for trauma-informed, trauma-competent care in your church and community
You, ultimately, know the needs within your church, community, and city, so begin there as you plan and outline the evening.
Second, another practical step in serving and equipping families and caregivers is launching a support group or small group for individuals and parents impacted by adoption and/or foster care within your church or faith community. Perhaps you can begin meeting weekly or monthly in prayer, study, and conversation. A great resource to walk through together is "Created to Connect." This study guide sheds light and goes deeper into the biblical principles that serve as the foundation for the philosophy and intervention detailed in "The Connected Child" by Drs. Karyn Purvis and David Cross along with Wendy Lyons Sunshine.
Another idea might include a "Podcast Club." Similar to a book club, groups can gather together to listen to the Empowered to Connect Podcast and dissect episodes and topics in community. Empowered to Connect (ETC) is an "attachment-rich, community-focused program that exists to support, educate, and resource caregivers." Among other helpful content and tools, its podcast series is available with multiple weeks worth of episodes.
Third, as part of that support network, recruit volunteers who can be on-call to help meet the everyday needs of adoptive and foster families. It can be as simple as setting up a meal train for busy seasons of life, writing a note of encouragement and mailing it to the family, offering to pick the kids up from school, or offering childcare for parents in their homes, so they can enjoy a night out together.
Fourth, your church can host a Parents' Night Out, where they drop off their children at church for an evening of fun while Mom and Dad enjoy a dinner at their favorite restaurant. This is also a great opportunity to recruit the youth or college students of your church to help provide care for the kids.
Fifth, with college students or young professionals in your church, consider launching a mentorship-style program where they befriend and spend time with children and teens in your community. For young adults interested in pouring into the lives of kids and teenagers, this could be really impactful and meaningful.
Sixth, another great way to get students in your church mobilized in adoption advocacy and support is fundraising. Adoption is expensive, ranging between $25,000 and $50,000. In fact, the financial barrier to adoption is one of the most prominent standing between waiting children and families. When students volunteer their time to host a carwash, bake sale, or movie night, the funds they raise can be donated to a specific family in your church community or even to Show Hope in our efforts to support families in the adoption process.
As the Church, we have an amazing privilege to help bring hope and healing to children and families. It's not always a "one size fits all" model and can be messy and complex, but it's good, good work nonetheless. So will you join us in showing up and showing hope in supporting adoptive and foster care families in your church?

Leave a Comment