Below the Surface: Why We Invest in Students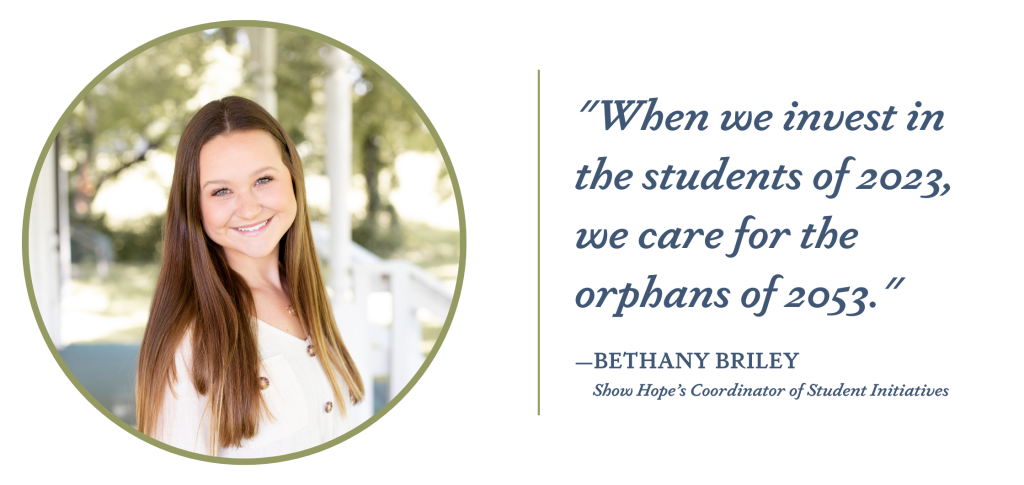 By Bethany Briley, Show Hope's Coordinator of Student Initiatives
Why does Show Hope invest in students? Truthfully, there are many ways to answer this question. However, the most succinct way to explain the importance of Show Hope investing, equipping, and mobilizing students can be found in Show Hope's logo. The Show Hope tree does not stop at the base of the trunk; it includes the roots as well. Humbly, we realize that no matter how tall the tree grows or how well we harvest and steward its fruits, the longevity and sustainability of the tree directly depends on how deep and healthy its roots are.
So how is Show Hope investing in students to deepen our roots? While we have had many Student Initiatives over the years, our current initiative is Pause Campaign (Pause). The goal is to educate students on the needs of children who are vulnerable and provide those students with opportunities to pray and reflect on how they can make a difference in the lives of others.
A favorite quote of mine is from Maya Angelou: "When you know better, do better." We can't expect students to care about something they are unaware of. By educating students on the need, we hope to stir their compassion at an early age that will continue to shape the way they spend their time and resources today as well as in the future. During my time of working with students in different roles, I've discovered that students will get involved when they understand the why and know where to begin. Pause gives students the opportunity to get started today, which makes a difference in the now and in the not yet.
While our greatest prayer and deepest desire is for every child to know the love, security, and permanency of a family, we also acknowledge the reality that we live in a broken world. The needs of children who have been orphaned will not end with our generation. Yet when we invest in the students of 2023, we care for the orphans of 2053.
For this reason, Show Hope considers it a great honor to be a part of raising up the next generation of adoptive and foster care parents, trauma-informed caregivers, social workers, educators, ministry leaders, and advocates. While we are excited about the many ways the Show Hope tree is growing and flourishing, we are also excited about the work that is going on below the surface, deepening roots to ensure that the shade of Show Hope's tree continues to bless children and families for generations to come.

Leave a Comment