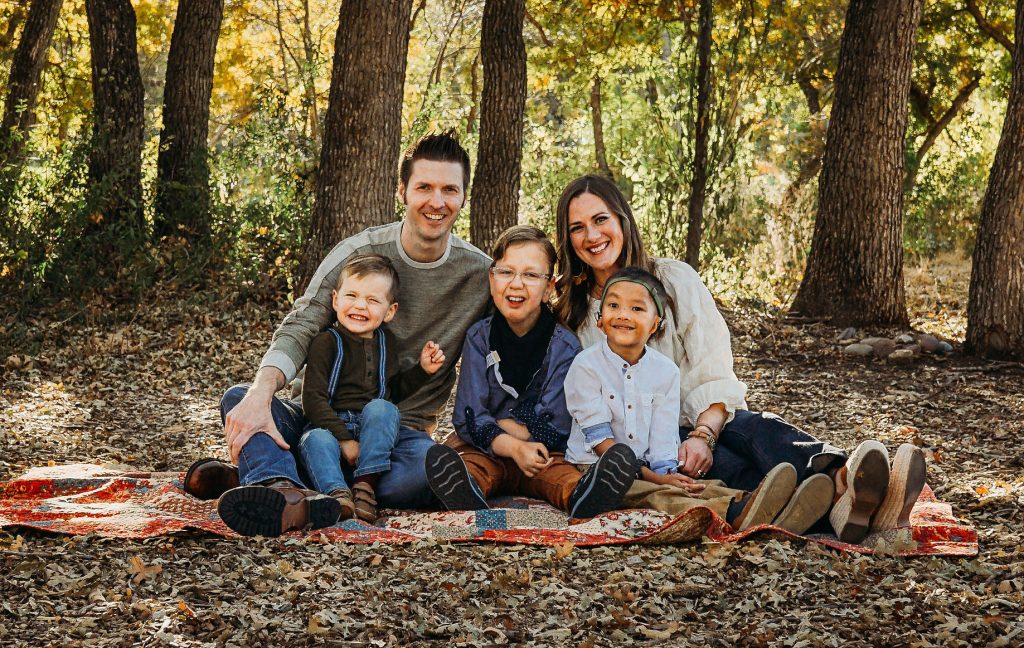 "From the beginning, my husband, Nathan, and I agreed that adoption would be part of our family's journey. Looking back, though, we realize we were quite naïve regarding our perceived 'best timing' for adoption. We underestimated how our decision to surrender the formation of our family to God would meet with his mercies, directing every facet of our family's growth.
Five years into our marriage, we decided to have a child; however, infertility created heartbreak month after month. Two years later, with the help of medications, Nathan and I became pregnant with twins. Within weeks, joy turned to devastation as we learned one of the twins died at 10 weeks in utero. Adding to this grief, my water broke at 14 weeks, and we were told that our son would pass away in utero within the week. With each subsequent visit to the doctor, we surrendered our hopes and fears to God's will for our lives.
Our world continued to be rocked when our precious baby boy, Lachlan, was born at 33 weeks, having miraculously stayed in my womb for 19 weeks with no measurable amniotic fluid! His first few weeks of life were a whirlwind, and we were unwittingly thrust into the world of disability as our son was diagnosed with cerebral palsy and muscular dystrophy which necessitated life-sustaining supplemental O2 and being 100 percent tube-fed.
At the time, we perceived disability as a complete injustice and couldn't imagine what good would come from this arduous path. As our son grew, we began to realize that we are each disabled in a sense, whether our brokenness is visible to others or hidden, and we each need to surrender our pursuits of perfection and control to a Savior who redeems. Thus, through God's grace, we learned to embrace disability, and Lachlan's life opened doors we never could have imagined. In fact, our experiences with him gave us both joy and the inspiration to pursue a special-needs adoption.
In 2016, we brought our second son home from China. He, exactly as God created him, has generated so much delight in our lives. While we hoped to match with another child within that year to re-use previous paperwork (a former policy), we simply didn't sense the peace that we prayed for as we studied children's profiles. As the one-year mark came and went, we felt frustrated, wondering why it wasn't God's will to allow us to adopt at that time.
Little did we know that God had another surprise for us—I was pregnant! After a complex introduction to parenthood with our first son and an adoption process to welcome our second son, we experienced a typical, healthy pregnancy. Our third son has brought immeasurable bliss and light to our family.
However, the profound gift God has given us in our journey is that we no longer idealize that simple, straightforward path to building a family; rather, we firmly believe God has designed us to live counter to the comfort the world seeks, to live purposefully in contrast to the customary expectations of how to establish a family. Nathan and I agree that God gave us these life experiences which birthed in us a capacity, confidence, and desire to parent another child with special needs.
As mandated by Chinese adoption policies, it was necessary to delay adopting another child until Flint, our youngest, turned 3 years old. During the wait, I remained in tune with the many children in China who need families. One child, a girl from the same care center as our son, struck a chord in my heart, and I began to pray for her daily as well as advocate for her adoption on social media. In the last year, I began to privately pray that Nathan's heart would be drawn to her … that he would begin to see her as a potential daughter. Nathan will tell you that as soon as we were able to start adoption paperwork, the question wasn't, Is this the child we want to add to our family? but rather, How quickly can we plow through paperwork to welcome this precious girl as our daughter?
God is so good. Through the complexities of infertility, disability, adoption, and a healthy pregnancy, it's evident that God has been at work well before we realized, weaving our story together in a manner reflective of his glory. We continue to surrender to his wisdom and guidance as the journey of adoption, secure attachment, and identity in Christ is a lifelong process. We believe that his power is made perfect in our weakness as we eagerly pursue and welcome this precious girl into our family, calling her daughter, sister, child of God."

— Jessica and Nathan Pugh

You can be a part of helping change lives, like the Pugh family, through this year's Adoption Aid 20/20 Campaign.
Will you join us? Together, let's SEE where hope goes!

Leave a Comment