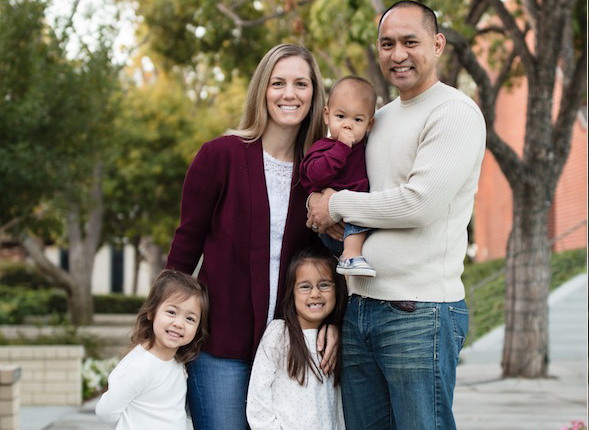 The following is a letter Show Hope received during the Christmas season. The Jamreonvit family was part of 2019's 20/20 Campaign. As we are all experiencing a heaviness, an uncertainty, and a waiting now, in light of the COVID-19 pandemic, we wanted to share these encouraging words with you.
As I write this, the Advent season is fast approaching. For me, this season feels far weightier than any that has preceded it. Junior and I started the process of intercountry adoption in May 2018, and by Christmas [2018], we were waiting to be matched—waiting for the proverbial phone call to introduce us to a child that might one day be ours. As hard as that wait felt at the time, [2019] feels so much heavier. This year, we have a name and a face, videos that we watch over and over, and pictures that have hung on our bulletin board for the last eight months.  
This year, we are entering the Advent season with full hearts for him but empty arms as we still work to get through the system and bring our son home. The wait that we had hoped would be over by this time continues still, and it has not been easy. There has been a mix of emotions at each new update on our son—joy at seeing any progress he has made followed by the grief of one more milestone we have missed. And deep down in the hardship of the wait is the realization of the uncertainty of it—not knowing when it will end, and more significantly, knowing that nothing is final or sure about the process until he is in our arms.
As I have begun to think about Advent, and the corporate sense of waiting that permeates the Church in a special way during this season, I have been struck by these things that the Lord has impressed upon me in our personal season of wait through our adoption process.
It is in the wait where we find what we truly need—a deeper understanding of who God is and a greater opportunity to trust his character. Outside of God himself, nothing will bring us ultimate satisfaction. As sweet as I anticipate it will be to finally hold our son in my arms, I realize that even the beauty and joy of that anticipated moment will not last forever. Our son will not meet our deepest needs nor satisfy our souls. Only God can do that. So in the wait, God is giving me that which I most need—the good gift of himself. I have never been so aware of both God's goodness and sovereignty as I have been through our adoption process. My utter inability to speed things along in any significant way has made me lean into the sovereignty of God in ways I never have before. Some of the most discouraging times in our adoption process have also been those in which I have clung most closely to God's character as revealed in scripture and have experienced a peace that can only come from him.

Waiting for temporal things helps develop a greater awareness of our wait for the eternal things to come. Since matching with our son, there hasn't been a day that has gone by in which I haven't thought about him. His pictures hang in our hallway, and we have a timeline printed to mark our progress to him. We pray for him daily, talk about him with our kids, and we took the time on his first birthday to mark a remembrance of him in a special way. In short, we are waiting for him with eager, purposeful anticipation, preparing for his arrival as best we can. God has been impressing upon me that our purposeful anticipation for being united with our son should echo the way I can and should wait for the eternal things to come. As a follower of Jesus, I am waiting for his return and the inauguration of the new heaven and the new earth when I will be with him for eternity. But it can be easy to let the cares of this world and the distractions of daily life dull the sense of anticipation that I should have at that coming day. Learning to be purposeful in our adoption wait is a means by which God has been teaching me to be purposeful in the wait for eternity.
Waiting for what is temporal and uncertain develops a greater joy that our wait in Christ is a sure hope. One of the most difficult parts of the adoption wait is the uncertainty of it.  There are estimated timelines for everything, but as we have learned, there is no guarantee that any of those timelines will be met. Waiting with this sense of uncertainty has made me much more aware of and grateful for the fact that in Christ, my wait for an eternity with him is a sure and certain hope. I have been redeemed by his blood and made righteous in him. I am sealed by the Holy Spirit, and my position as a daughter of the King is secure.
If like me, you are a follower of Jesus in the midst of a wait, may you be encouraged in this season of Advent. As hard as the wait can be, God is purposeful in it. While his timing and his work may be hard to understand, we can rest in the peace that comes with the knowledge that he is both sovereign and good in all that he does. And while we wait to see when and how he will act, may we find daily joy in knowing him better and allowing our temporal season of wait to point us toward the joyful anticipation of an eternity with Christ. 
And to our son: Though we haven't yet had the joy of holding you, we love you. Though you are still half a world away from us physically, the Lord has knitted you into our hearts. Along with your sisters and brother, we are joyfully anticipating the day we will get to bring you home. The wait has felt long, but we know that God has been purposeful in it. It is our deepest prayer that one day, you will be convinced of the same. We are so thankful that God has chosen us to step into the pain and grief of your story and provide for you a home and a family. It is our privilege to walk this road with you. 
But while we will love you fiercely as your earthly family and do all that we can to meet your needs, we hope and pray that, ultimately, we will have the joy of introducing you to your heavenly father. We pray that someday you will know that while you were an orphan for a time here on earth, you have never been without your heavenly father. He is the one who knitted you together in your mother's womb, who placed his hand of protection over you even at your most vulnerable moments, and we know that he is the one who is loving and caring for you even now while we wait for you. 
Merry Christmas, son. We love you, and by God's grace, we are coming for you soon!
— Katie and Jr. Jamreonvit
We recognize that we are all living in a unique, uncertain time. Individuals are losing jobs, some of you included; families are feeling the impacts of COVID-19; and we all certainly feel a level of timidity and anxiety. At Show Hope, we are wrestling with how to proceed with our mission in such a time as this. We are convinced now, more than ever, that the work of Show Hope is needed and vital. Our mission is centered on helping to provide home and connectedness for children who might not otherwise experience family. We are aware that for the children we serve, much of life is lived with daily uncertainty. It is, to that end, that we ask you to join us in prayer as we are also praying for you, our country, our world … and the children and families we serve.

Leave a Comment