Dear Show Hope Sponsors and Donors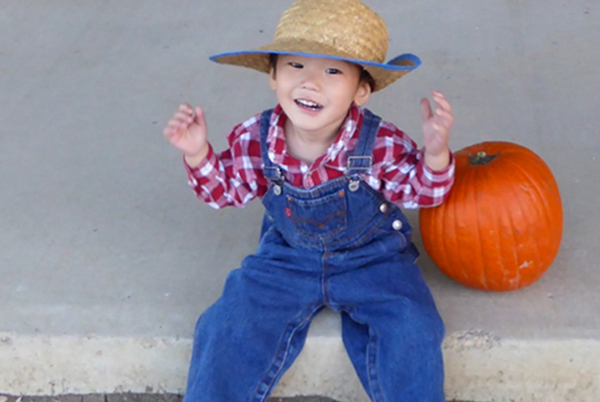 Dear Show Hope Sponsors and Donors,
My husband and I attended a worship concert in Denver many years ago where Steven Curtis Chapman showed beautiful pictures and shared touching stories of adoption. Although we had talked about adopting someday, I believe this placed a stronger desire in our hearts for girls in China. We also believe God used our long and countless trials of infertility, including losing 2 "adopted" embryos, to bring us to our steps of faith into traditional adoption, and the Lord opened the door to adopt from China.
We submitted our application to CCAI in September of 2014. At the time, we requested 2 girls. We had been encouraged to consider a boy, and I had heard of people switching because of the long waits now for girls. But never in my mind or heart, at that point, did I give a second thought to bringing home a boy. In fact I remember thinking: "That won't be us." As we finished our six month "paper chase," I began looking at the waiting children on our agency's website. In the meantime we applied for a few grants, hoping to receive some aid for the overwhelmingly large upcoming expenses for adoption. The Lord began to open our hearts to considering a boy. There are so many boys waiting!
In March of last year, we received a letter from Show Hope, saying that we had been blessed with a $4,000 grant! We were so grateful to have support from your ministry and humbled that God was providing for us through people that we didn't even know. The next month, we saw the picture of a little boy that we wanted to be part of our family. After much prayer and doctors' reviews we accepted the responsibility of bringing him home. We couldn't wait to have him in our arms.
We didn't know at that point that he was being cared for at Maria's Big House of Hope and at Hope Foster home in Beijing. As we discovered this, and both care center's connection with Show Hope, it was even more amazing to me how God was working so many pieces together to bring this little guy to our family. What a blessing to have our son being cared for in such a loving and Christ centered facility! Thank you for loving and supporting our little guy before we even knew his name.
We have now been home for about 3 months and are completely in love with our 2-year-old Josiah. At times we feel overwhelmed and ill-equipped for such a precious child, as well as his intense medical issue of bladder extrophy, but we have a God who is graciously in control and works all things together for the good. Josiah is doing so well adjusting! He laughs and cries plays and hugs and eats well. We are beyond blessed to call him our son!
Throughout this process, we have seen God miraculously provide for us and Josiah through others who also have a heart for orphans and adoption. God blessed us with the exact amounts we needed for each step of the journey, and at the same time He was caring for Josiah on the other side of the world. We can't thank you enough for being part of our journey and helping us get to our little boy. We have truly experienced God's love for us in this journey to Josiah, and can now see more clearly the beauty in God's adoption of us.
We are looking forward to returning to China in March to add a little girl to our family!
Thanks again!
In Christ,
Jason and Tara

Leave a Comment