From Our Co-founder Mary Beth Chapman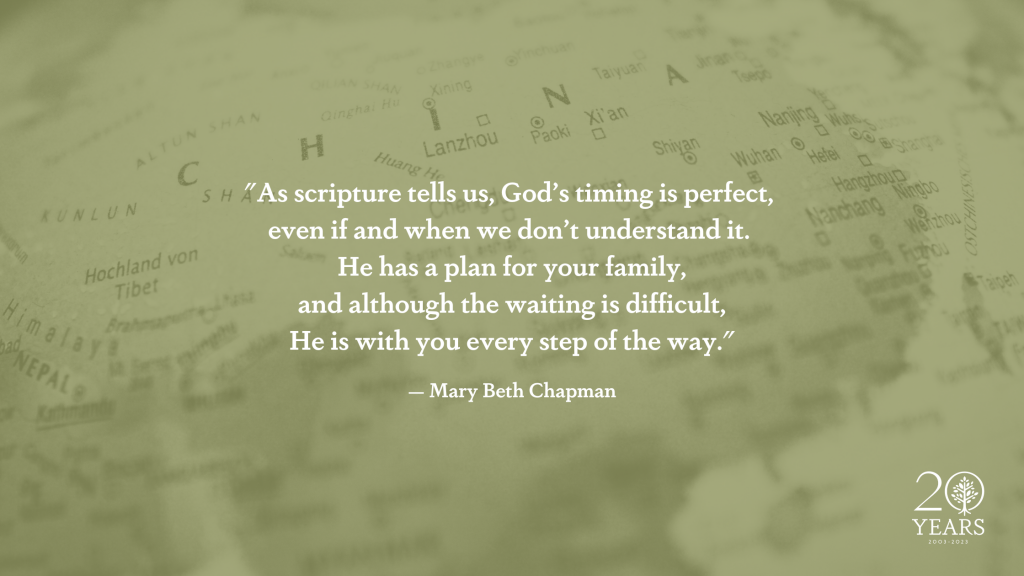 To the parents and families who are waiting to welcome home their precious children from China …
I pray this letter finds you as peaceful and comforted as possible while you find yourself in this incredible wait to bring your beautiful children home.
The journey you are traveling, I am sure, has tested your faith in ways you probably never imagined. I simply want to remind you, Jesus is with you, and He will never leave you.
As scripture tells us, God's timing is perfect, even if and when we don't understand it. He has a plan for your family, and although the waiting is difficult, He is with you every step of the way. One of my favorite scriptures reminds us, "They who wait for the LORD shall renew their strength; they shall mount up with wings like eagles; they shall run and not be weary; they shall walk and not faint" (Isaiah 40:31). How encouraging to know that when we put our trust in Jesus by waiting on Him, He knows intimately the timing of everything we are waiting for. Yet I am so truly grieved that in our humanness, it hurts to wait … but there is hope.
I pray you will hold onto God's promises in this season. May the Lord sustain you, giving you hope during this challenging time. Again, remember, God is always with you.
I also continue to pray for your children and your adoption journey. Lean on your faith and allow Jesus to comfort you in the midst of waiting. And I invite you to join me in praying for the U.S. and China in their conversations … for a way to be made in opening adoptions and beginning the processes again. You are not alone in this journey, and many other families are traveling the same path as you. Through it all, though, I firmly believe that we will all SEE "the goodness of the LORD in the land of the living! Wait for the LORD; be strong, and let your heart take courage; wait for the LORD!" (Psalm 27:13-14).
May the peace of God be with you and your family. Steven and I are praying alongside you. Our hearts are heavy but not without hope. We look forward to a day when we will celebrate the news of your children coming home with you.
With hope,
Mary Beth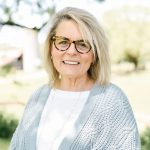 Mary Beth Chapman is a New York Times' best-selling author, speaker, and the wife of GRAMMY® and Dove Award-winning recording artist, Steven Curtis Chapman. She is also Show Hope's Co-founder and Chairman of the Board. Mary Beth delights in overseeing the work of Show Hope as she continues to do all she can to help restore hope to children living as orphans. Learn more at marybethchapman.com.

Leave a Comment