Today, May 24th, is the day my daughter came home.
It was a great day 16 years ago when she was placed in my arms, and my life was changed forever! When I think about this day, what I remember the most is being stunned at my immediate love and devotion to this little girl. That same love and devotion has grown every day for the past 16 years.
As the father of two children by birth already, I was worried I couldn't love a child who came to my family through adoption as much as my two sons. I was confident I would care for this little girl. Paying for college and a wedding one day seemed pretty easy, but I knew the love of a parent is so much more than just being a provider.
The love of a parent is such a deep, emotional devotion that it can hardly be described or explained.
I wrestled for months with this fear before I was even willing to walk with my sweet wife on the journey to adopt. What we know now is my months of hesitation actually worked to time our paperwork so we would be matched with the most beautiful, special girl I could have ever imagined! I quickly learned the emotional miracle of adoption is just as profound and amazing as the biological miracle of childbirth, but in the beginning I didn't understand this. I was afraid I couldn't love a child who was adopted with the deep love of a parent.
I was afraid my daughter would seem less important to me than my two boys.
I was so wrong!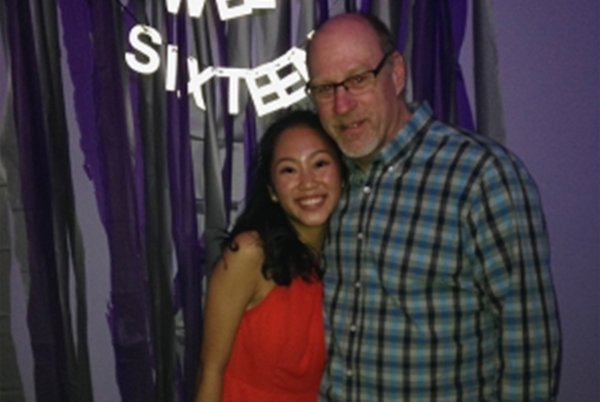 Now this little girl is 16 years old. She is a high school cheerleader, driving a car, and has a boyfriend (AHHH!). She has amazing friends, studies hard in school, and laughs all the time. She loves country music, pizza, and pick-up trucks!
She also has pride in her South Korean heritage. This summer she will cheer equally for both the US and South Korean Olympic teams in Rio.
What an amazing blessing she is to me and our family. I can't believe I ever had any hesitation to adopt. And even though she is a teenager, a night rarely ends without me giving Carley a kiss goodnight. As I leave her room, I thank God for giving my amazing wife patience with me in the early discussions and decision to adopt. I thank God for two boys who care for their little sister with a love seldom seen between siblings, and I thank God for the astounding love and devotion he has given me for her.
Happy adoption day, Carley. You are an indescribable blessing, and I'm still stunned!

Leave a Comment