January Prayer Focus: Tanya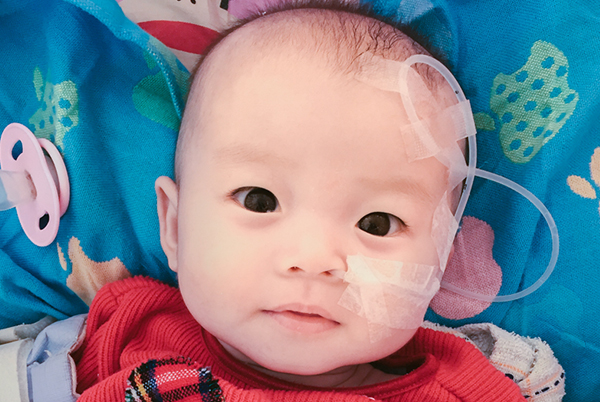 Tanya is a charming 9-month-old that was admitted to our Zhengzhou Special Care Center when she was just 2-months-old. It has brought our staff great joy to watch her grow, learn how to play with toys, and see her shy but delightful personality develop over the past several months. Her adorable smile has won over her nannies, medical staff, and visitors alike.
Tanya was born with a gastrointestinal malformation, and since coming under our care we have been able to provide the necessary nutrition and medical care she so desperately needs. We are so thankful that Tanya is able to receive this life-giving care and know that she has a hope and a future.
Please join us in praying that Tanya will continue to gain weight and stay healthy during this winter season. We are hopeful she will be stable enough to receive surgery for her gastrointestinal malformation this coming spring. Pray for Tanya's health leading up to the surgery and for her recovery as well. We are prayerful that soon she would know the love and security of a family!
Additional Prayers:
+Lord over all, we pray that you will guide more people to care for orphans through the
2016 Show Hope trips
. Grant wisdom and clarity as they discern their calling to visit orphans in their distress.
+Father to the fatherless, we pray that you will raise up workers for the harvest through the
advocacy events
. Bless the efforts of all who are serving the world's waiting children through their tireless advocacy.
+Father of all mercy, be with us in the New Year. May we see many more children unite with their families. Give us grace to meet the needs of orphans around the world. Guide us with your Spirit.
+Heavenly Father, may your hand be at work in the hearts of high school and college students. Guide them in their youth to recognize the great needs of waiting children and encourage them to use their gifts and future careers for your glory.

Leave a Comment